Spin-Clean Record Washer MKII Deluxe Kit
Spin Clean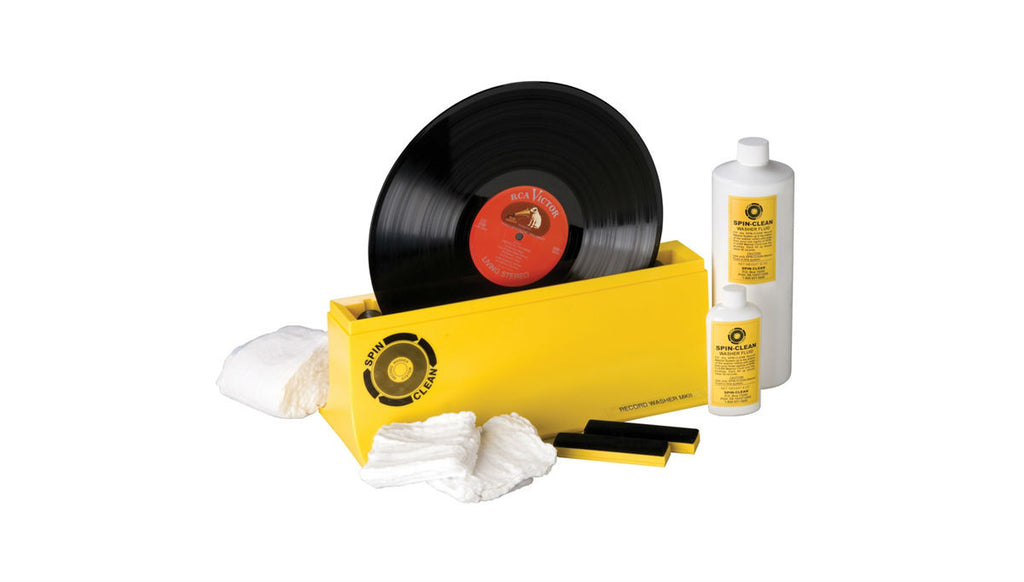 Spin-Clean Complete Record Washer System
The Least Expensive Record Cleaning Machine We've Ever Offered
Comes Fully Loaded with More Fluid and More Cleaning Power
The Spin-Clean gets records clean, is easy to use and doesn't cost a fortune. Spin-Clean also takes the effort out of cleaning records, the brushes scrub both sides of the record simultaneously, rollers in the tank keep records safe from damage and the fluid pulls dirt off the record and down to the bottom of the tank. Quick, easy and reasonably priced, now there's no reason not to clean every record in your collection. The Record Washer System is available two ways, as aStarter Kit and as a Complete System Kit.
"Meet my new best friend, the Spin Clean Record Washing System. The results speak for themselves-less noise means more resolved music. Cleaner surfaces means a gain in perceived dynamic range. Spin Clean just announced a new MK II version. No doubt a great device made even better!"
– Neil Gader, The Absolute Sound
"It's cheap and it really, really works...I cleaned some dirty, fingerprint-encrusted records, and when I removed them from the vat, all dirt and fingerprints were gone... not everyone wants to spend hundreds of bucks on a vacuum machine, and the Spin-Clean got the job done!"
– Michael Fremer, Stereophile
Spin-Clean comes with everything needed to get started:
Record Washer and Lid
4 ounce bottle of Record Cleaning Concentrate
32 ounce bottle of Record Cleaning Concentrate
1 pair of Washer Rollers
7 washable Drying Cloth
Easy To Follow Instructions (printed in the lid, so you can't lose them!)
How To Use Spin-Clean
Simply mix a few capfulls of Spin-Clean Wash Fluid solution with water in the tank. Rotate the record slowly through the solution as the record brushes on either side scrub the record clean. Remove the record, place on a drying cloth and wipe dry with another drying cloth.