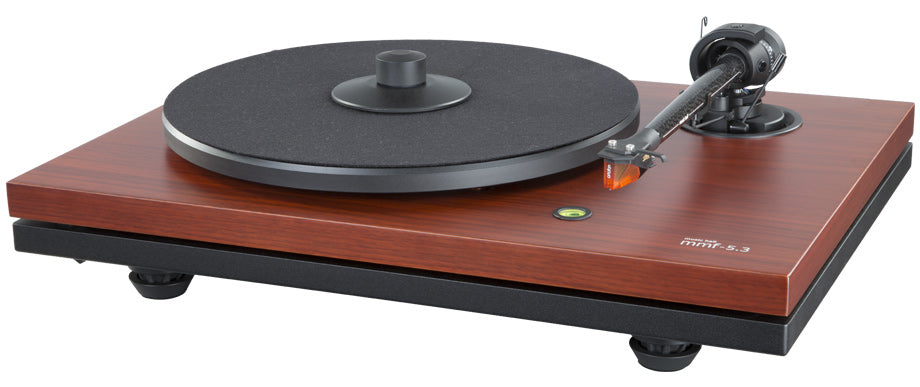 mmf-5.3se
THE MUSIC HALL MMF-5.3 SPECIAL EDITION TURNTABLE IS A 2-SPEED BELT DRIVEN AUDIOPHILE TURNTABLE EMPLOYING THE UNIQUE DUAL-PLINTH CONSTRUCTION ORIGINATED BY MUSIC HALL.
The mmf-5.3se comes complete with an Ortofon 2M Bronze cartridge.
feature list
music hall's unique dual-plinth construction
gorgeous and classic-looking rosenut real wood veneer finish
sorbothane isolation orbs
one piece carbon-fiber arm
carbon-fiber tonearm is fully adjustable for VTA and azimuth
counterweight's center of gravity is level with the stylus tip,
is decoupled from the arm, and acts as a resonance damper
DC synchronous motor for superior speed stability,
separately isolated on the lower platform
two-speed stepped motor pulley for 33? and 45 rpm
Ortofon 2M Bronze cartridge with replaceable nude
fine line diamond stylus ($440 value)
the cartridge supplied is properly aligned and mounted
precision stainless steel main bearing sheathed in Teflon®
for noise-free fluid operation
main bearing provides noise free fluid operation
dynamically balanced alloy platter with soft felt mat
screw-on record clamp
high quality gold RCA connectors and detachable phono cable
special vibration damping adjustable feet
built-in round spirit level for proper leveling
low noise fully manual belt drive design
excellent instruction manual and easy assembly
dust cover and 45rpm adaptor included
technical specifications
power supply
15V / 0-0.8mA DC
universal power supply
power connection
100 – 240 Volt
50 or 60 Hz
standby power consumption
< 1 W
speeds
33? rpm
(manual change to 45 rpm)
wow and flutter
± 0.10 %
speed deviation
± 0.80%
rumble max
> – 71 db
effective tonearm length
9 in. (230 mm)
tonearm weight
250 g (without counterweight)
effective tonearm mass
8.5 g
overhang
18 mm
product specifications
w18.25 x d13.25 x h5.5 in.
24 lbs. pkg.