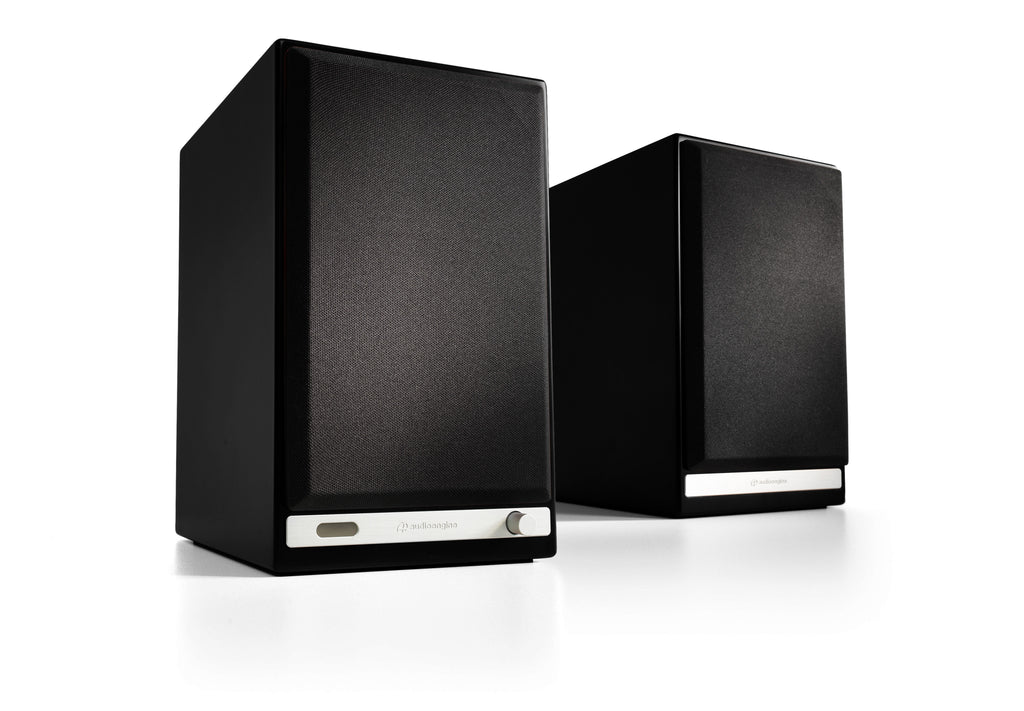 OUR 10TH ANNIVERSARY FLAGSHIP
Our flagship HD6 powered speaker system represents a major milestone for Audioengine and shows just how far we've come in 10 years. Featuring built-in amplifiers that really pack a punch as well as analog and digital inputs including aptX® Bluetooth® and optical, the HD6 is not just another great-sounding pair of Audioengine powered speakers, but a complete audio system.
VERSATILE CONNECTIVITY
We've included features from some of our best-selling products making HD6 quite possibly the most versatile powered speaker available. Stream TIDAL, Spotify, Pandora, YouTube – or any streaming service or media player – wirelessly from your smartphone, tablet or computer. For the highest resolution connect to the optical input, which is perfect for network music players. It can also be used to connect any component with an optical output, including your TV system. You can also connect your favorite turntable or a subwoofer, so no matter how you connect and listen, HD6 has you covered.
RETRO-FORWARD DESIGN
HD6 was designed for audio performance, but speakers obviously also need to look good so we've included furniture-grade wood veneers, aluminum trim accents, and detachable magnetic grills that blend with any decor. Available in Satin Black as well as real Walnut and Cherry wood at no additional cost if you want to really show them off.
EASY SETUP
Built-in power amplifiers save space and eliminate the need to connect HD6 to a stereo receiver or external power amp. Simply plug the left speaker into a power outlet and connect the included speaker wire from the left to the right passive speaker. All internal components of the HD6 are designed and tuned together, so you'll get Audioengine's Signature Sound and a much more efficient system than traditional separate passive speakers and amplifiers.
QUALITY SOUND
HD6 is Audioengine's latest statement on high-quality and highly-affordable audio. The all-new woofers have diecast aluminum frames allowing the lower-end to really perform. Also new are the silk dome tweeters which have been upgraded for even smoother, more extended highs, superior stereo separation, and incredible imaging. The HD6 speaker cabinets are also a new design that are thicker and more stable which reduces unwanted resonances.
FEATURES

Built-in analog class A/B monoblock power amplifiers
Dual audio inputs and full-range variable output
High-fidelity advanced Bluetooth® with aptX®, simplified setup, extended range, and 24-bit upsampling
24-bit digital optical (SPDIF) input
Custom 5.5" Kevlar woofers with die cast aluminum woofer baskets
Custom 1" silk tweeters with neodymium magnets and ferrofluid-cooled voice coils
Hand-built cabinets with furniture-grade finishes
Detachable magnetic speaker grills
Threaded inserts to secure speakers to stands
Passive crossovers with upgraded components
Solid aluminum remote control
WHAT'S IN THE BOX

HD6 powered (left) speaker
HD6 passive (right) speaker
Remote control
Antenna
Speaker wire (16AWG), 4 meters (~13ft)
Power cable
Mini-jack audio cable, 2 meters (~6.5 feet)
RCA audio cable, 2 meters (~6.5 feet)
Microfiber speaker bags
Microfiber cable bag
Quickstart guide
Product line brochure
WORKS WITH

Mac, PC, tablets, or smartphones
Any operating system (Windows, MacOS, Linux, iOS, Android)
Any music player app or streaming service (iTunes, TIDAL, Youtube, Amarra, etc.)
Any product with Bluetooth, mini-jack, RCA, or optical outputs (TV, Apple TV, network streamer, etc)
All Audioengine digital-to-analog converters and wireless audio adapters
FINISH OPTIONS

Satin Black Paint
Cherry Wood Veneer
Walnut Wood Veneer
MATERIALS AND CONSTRUCTION

¾" (20mm) thick MDF cabinets
1″ (25mm) silk dome tweeters with neodymium magnets
5.5″ (140mm) Kevlar woofers with advanced voice coils and diecast aluminum frames
Built-in linear power supply with toroidal power transformer
ABOUT BLUETOOTH®

 

AND APTX®

Our Bluetooth products easily connect to any of your devices that have Bluetooth, but to get the best sound possible we recommend using a device that supports Bluetooth aptX. Find out more about aptX here: csr.com/products/aptx

And if you're looking for a new smartphone, tablet, or computer with aptX or want to look up your device and see if it supports aptX, go here to check out what's available: aptx.com/products/browse/categories

And for iPad or iPhone users that don't have aptX, don't despair! MacOS (MacBook, iMac, Mac mini) include Bluetooth aptX, however if you use an iPhone or iPad, Apple generally uses the AAC codec and doesn't support aptX. AAC sounds really good as well and you'll also get the extra benefit of our upsampling 24-bit DAC, so you won't be disappointed by the sound quality if you use an iOS device with any of our Bluetooth products.