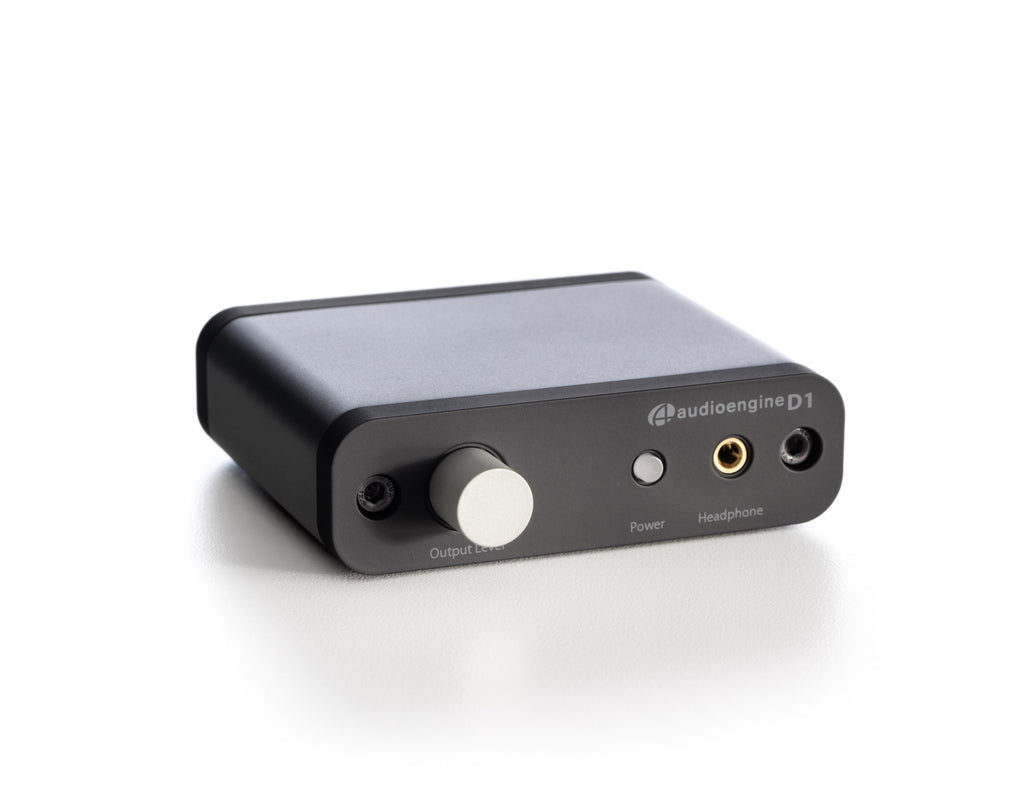 The D1 is a premium 24-bit DAC and headphone amplifier for your computer, TV, and more. 
HIGH QUALITY AUDIO
Perfect for providing high quality audio to speakers or headphones, the D1 is a premium 24-bit DAC and headphone amplifier for your computer, TV, and more. The D1 connects to your computer's USB port or optical output without any software to download, making the D1 quick and easy to set up.
BENEFITS
High-performance DAC and headphone amp
USB and optical inputs
Stream bit-perfect 24/96 HD audio
Desktop or portable DAC
Mac or PC, no driver to install
DIGITAL-TO-ANALOG CONVERTER
Audioengine D1 Premium 24-bit DAC (digital-to-analog converter) allows you to bypass your computer's soundcard or headphone output and send audio through USB or optical.
D1 will process digital audio at any bit depth up to 24 bits and any sample rate to 192kHz. With it's high signal-to-noise ratio and low distortion, the D1 delivers sound quality generally heard only in more expensive DACs. The high-performance headphone output was designed for a wide range of headphones and will satisfy even the most demanding headphone enthusiasts.
D1 is the perfect digital interface between your computer and music system and will improve the sound of ALL your music.
ALWAYS READY TO GO
The D1 accepts inputs from both USB and optical and has outputs for any audio system or headphones. The D1 DAC is the perfect way to get great-sounding music not only from your computer but from your TV, Apple TV, Blu-ray player or CD player. DirecTV and Comcast also have optical outputs for high-res audio.

Setup is easy and no special software, app, or driver is needed, making D1 a true plug-and-play digital audio solution.