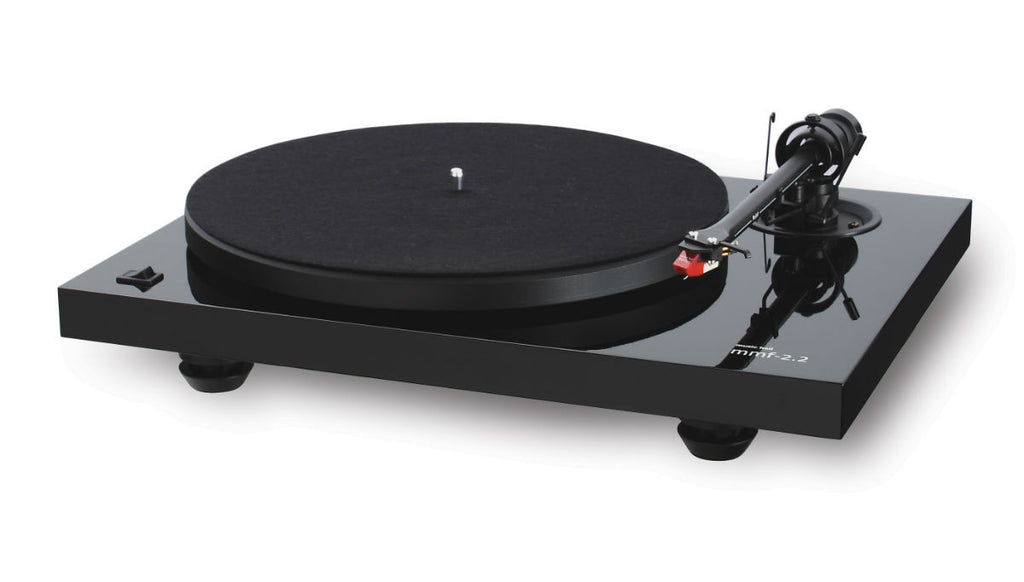 mmf-2.3
THE MUSIC HALL MMF-2.3 TURNTABLE IS A 2-SPEED BELT DRIVEN AUDIOPHILE TURNTABLE AT A BUDGET PRICE.
feature list
available in High-Gloss Piano Black, High-Gloss White, and Ferrari Red (Prices Vary) 
special vibration damping adjustable feet
custom carbon fiber tonearm for superb tracking ability
low noise fully manual belt-drive design
separately isolated DC synchronous motor for superior speed stability
two-speed stepped motor pulley for 33⅓ and 45 rpm
music hall Spirit moving-magnet cartridge with replaceable elliptical stylus ($100 value)
the cartridge supplied is properly aligned and mounted
high precision stainless steel and bronze bearing assembly for quiet fluid operation
high quality gold RCA connectors with detachable phono cable
full-size alloy platter and felt mat
excellent instruction manual
quick and easy to assemble
dust cover and 45 rpm adaptor
technical specifications
power supply
15V / 0-0.8mA DC
universal power supply
power connection
110/120 or 230/240 Volt
50 or 60 Hz
standby power consumption
< 1 W
speeds
33⅓ rpm
(manual change to 45 rpm)
wow and flutter
± 0.10 %
speed deviation
± 0.80%
rumble max
> – 68 db
effective tonearm length
8.6 in. (218.5 mm)
effective arm mass
7.0 g
overhang
18.5 mm
product specifications
w17 x d13 x h4.5 in.
17 lbs. pkg.