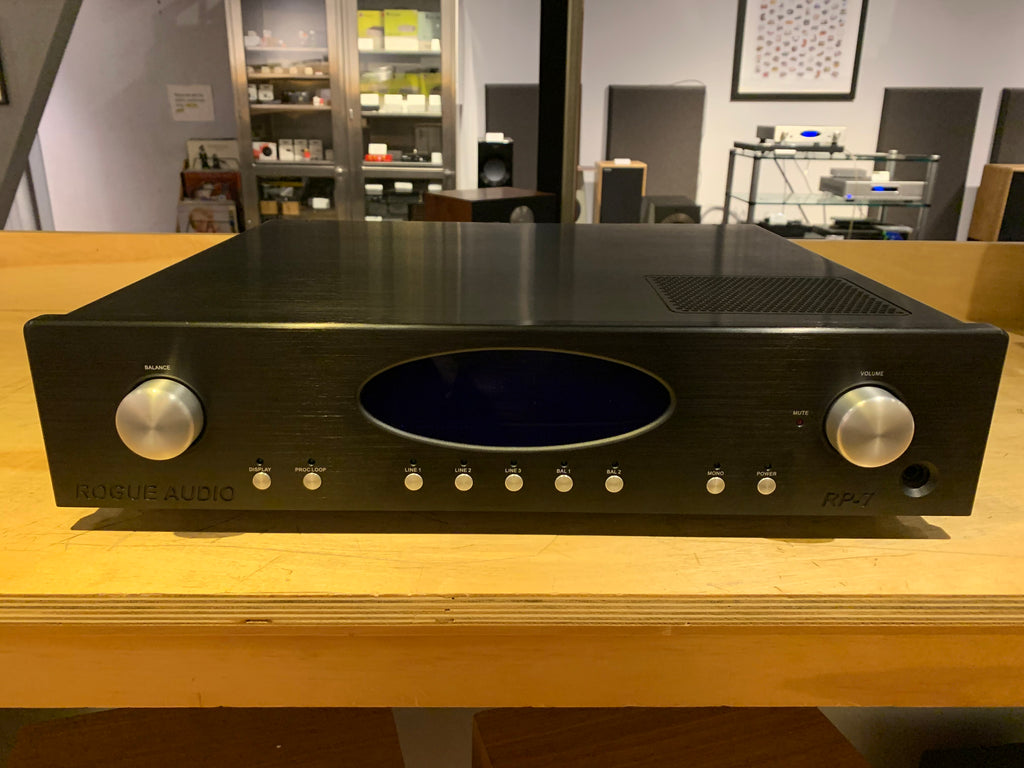 This item comes with a 6-Month Parts & Labor Warranty and 6-Month Trade-Back privilege 
Rogue Audio RP-7 Preamplifier in a black finish. It is being sold with its original box, manual, and black plastic remote. The pre-amp has been tested and confirmed to be in perfect working condition. This is a trade back piece that was traded in for the next step up in the Rogue Audio line. This is an excellent preamplifier with great sound.
"With a perfect blend of tube smoothness and an almost unbelievable level of detail and transparency, the new RP-7 essentially redefines what a reference level tube preamplifier can achieve." - Rogue 

Cosmetically, it has some scratches as you will be able to see in the photos. 

General Features:

Four 12AU7 tube mu-follower design
Ten function remote control
OLED display (defeatable)
Home Theater bypass/Unity gain inputs
Three pairs of RCA line leve inputs
Two pairs of fully balanced XLR inputs
One pair of fixed outputs
Two pairs of RCA variable outputs
Two pairs of fully balanced XLR outputs
Heavy duty gold plated RCA inputs
Machined aluminum faceplate and knobs
Tube based high power headphone amp
Slow start turn on sequencing
Auto mute at turn on/turn off
Detachable IEC power cord
Fully tested, burned in and auditioned
3 year limited warranty (6 months on tubes)
Proudly hand crafted in the USA!
Specifications:
Tube complement: 4 x 12AU7/ECC82 tubes
Frequency response: 1Hz – 100KHz +/- 1 dB
Gain line stage: 14 dB (20dB XLR)
Output impedance: <10 Ohms
Dimensions: 18.5 "W X 4.5 "H X 17" D
Shipping weight 45 pounds
Power requirements 115/230V – 50/50Hz