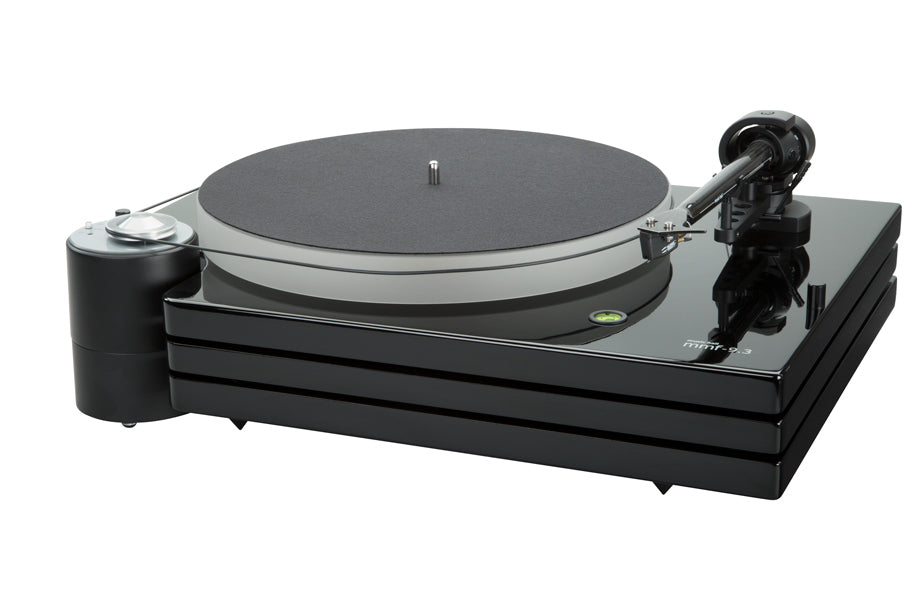 mmf-9.3
THE MUSIC HALL MMF-9.3 TURNTABLE, IS A TWO SPEED, BELT DRIVEN AUDIOPHILE TURNTABLE EMPLOYING THE UNIQUE TRIPLE PLINTH CONSTRUCTION ORIGINATED BY MUSIC HALL.
The distinctive design isolates the critical sound reproducing components: platter, main bearing, tonearm, and cartridge, on the top platform, from the adjustable tip-toe feet and wiring, which are mounted on the bottom platform. The motor and speed controls are isolated on their own vibration damping base and completely decoupled from the turntable.
feature list
music hall's unique triple plinth construction
one-piece full carbon fiber tonearm
counterweight's center of gravity is level with the stylus tip,
is decoupled from the arm, and acts as a resonance damper
completely isolated/decoupled DC motor with 33? and 45 rpm speed controls located in the front left corner of the turntable, thus canceling any potential vibration from the motor/belt to the cartridge
motor sits on its own resonance damping puck
optional Goldring Eroica LX low-output moving-coil cartridge with
Gyger II line contact stylus ($795 value)
the cartridge supplied is properly aligned and mounted
inverted ceramic main bearing for super quiet, fluid operation
non resonant, 1" thick acrylic platter
soft felt platter mat
high quality gold RCA connectors and detachable phono cable
adjustable tip toe feet with anti scratch cups
low noise fully manual belt drive design
built-in round spirit level for proper leveling
dust cover and 45 rpm adaptor included
excellent instruction manual and easy assembly
technical specifications
power supply
15V / 0-0.8mA DC
universal power supply
power connection
100 – 240 Volt
50 or 60 Hz
standby power consumption
< 1 W
speeds
33 ? & 45 rpm electronic speed change
wow and flutter
± 0.10 %
speed deviation
± 0.06%
rumble max
> – 73 db
effective tonearm length
9 in. (230 mm)
tonearm weight
250 g (without counterweight)
effective tonearm mass
8.5 g
overhang
18 mm
product specifications
w18.25 x d13.25 x h7.25 in.
40 lbs. pkg.