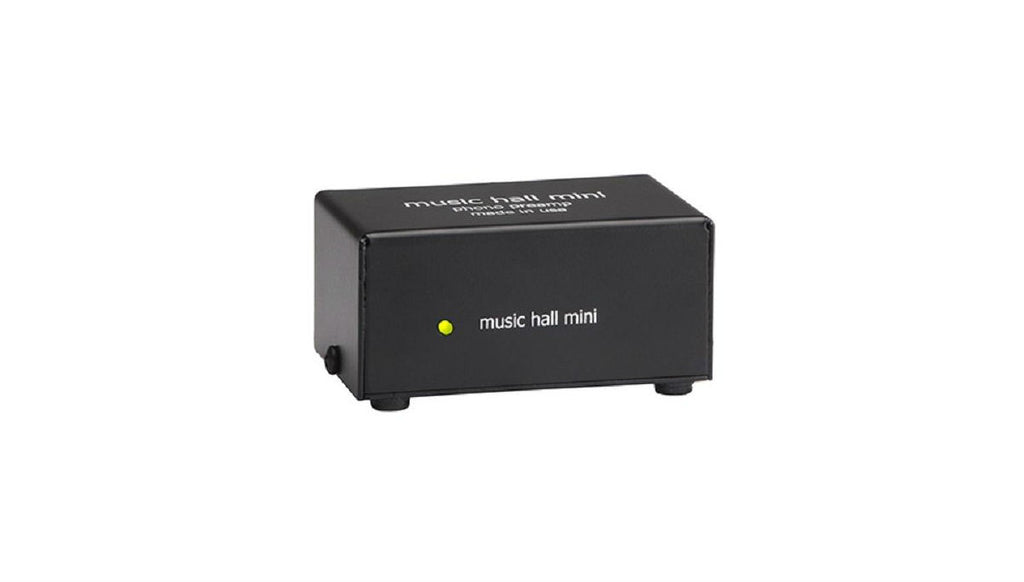 THE MUSIC HALL MINI IS A SOLID STATE MOVING MAGNET PHONO PREAMP FOR USE WITH MOVING MAGNET AND HIGH OUTPUT MOVING COIL CARTRIDGES. THE MINI IS DESIGNED TO AMPLIFY AN RIAA EQUALIZED PHONO SIGNAL TO A HIGH LEVEL SIGNAL. IT'S CHEAP, CHEERFUL, AND BUILT IN THE USA.
feature list
RIAA equalization +/- 1.5 dB, 20Hz to 20kHz
steel chassis
i/o connectors: rca, 3.5mm trs stereo
input sensitivity: 35 dB gain @1kHz, 47k Ohms Input Z
input capacitance: 5pf + cable capacitance
input impedance: 50k Ohms
output impedance: 1 K Ohms
max output level: >10dB @ 1kHz at .1% dist.
s/n ratio: >80 dB unweighted
thd .02% @ 1KHz
pwr: 9 – 15 VDC
indicator: 1 power LED
product specifications
w3.25 x h1.5 x d2 in.
1.5 lbs. pkg.