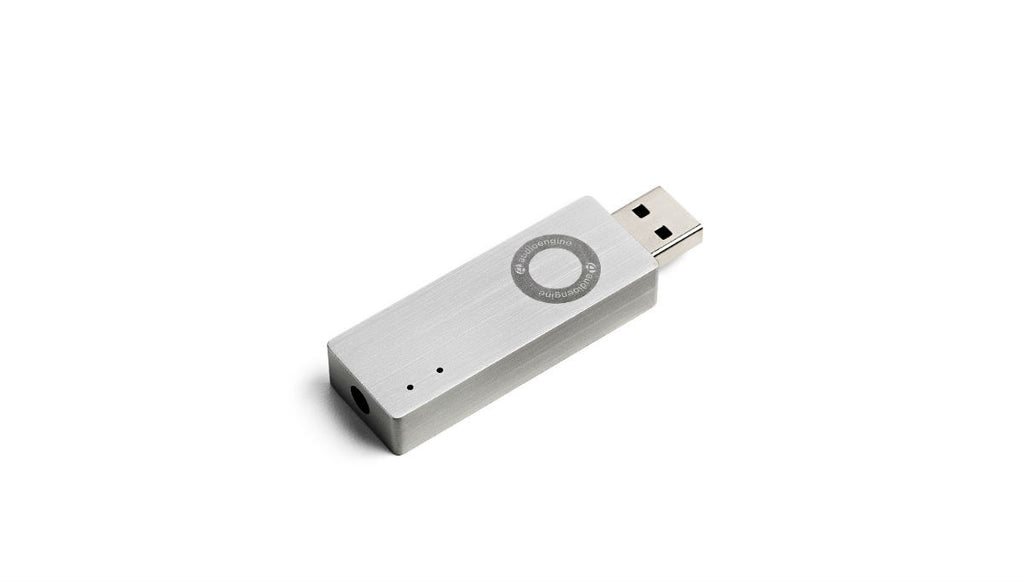 Audioengine D3 Premium 24-bit DAC
- Connect D3 to a USB port on your Mac or PC and send high-quality music to your headphones or any audio system.
- D3 includes a USB DAC and headphone amplifier for incredible audio performance in a portable design.
- Audioengine D3 is the perfect intro to computer audio!

The Audioengine D3 Premium 24-bit DAC (digital-to-analog converter) allows you to bypass your computer's headphone output and send music directly through a USB port for noticeably improved fidelity and a higher output. The D3 is a powerful yet portable converter with performance and features usually found in more expensive DACs and is the perfect interface between your computer and headphones or any music system.
Easy setup
Setup is easy and no special software is needed, making D3 a true plug-and-play solution. The D3 plugs directly into a USB port on your computer so no external power supply or cables are needed. The output of the D3 connects to headphones, Audioengine powered speakers, or any audio system. The D3 also has a sample rate indicator that shows sample rates above 48K so you'll know you're getting the most out of your HD music.
Versatile
The quality of most computer headphone outputs isn't generally very inspiring, so the D3 provides a better option by streaming audio from your computer's USB port and directly connecting to your music system or headphones. The D3 DAC is the perfect way to get great-sounding music not only from your computer to headphones but also from your computer to any music system.
Designed for the headphone enthusiast
D3 will process digital audio at any bit depth up to 24 bits and any native sample rate to 96KHz. With its high signal-to-noise ratio and low distortion, the D3 delivers sound quality generally heard only in more expensive DACs. The high-performance headphone amplifier was designed for a wide range of headphones and will satisfy even the most demanding headphone enthusiast with its high output and revealing sound. The D3's asynchronous data transfer carefully controls USB streaming audio from any computer which greatly improves audio performance.
See and hear the difference
The aluminum case of the D3 reflects traditional Audioengine design and the high-quality components and audio fidelity are typical of Audioengine's commitment to great sound at affordable prices. The Audioengine D3 continues to close the gap between your computer music and home hi-fi and even if you're not an audio enthusiast we guarantee your music will sound better!
Features
Portable USB audio converter for Mac or PC
Stream bit-perfect native 24/96 HD audio
High-performance headphone amp included
Plug-and-play, no drivers or software to install
Connect headphones or any music system
Easily drives low impedance headphones
Computer OS volume control
Asynchronous data transfer with dual master clocks
HD indicator for sample rates above 48K
Metal injection molded (MIM) aluminum case
Works with
Any computer, Mac or PC
Headphones
Powered speakers
Any music system with audio inputs (RCA or minijack)
What's in the box
D3 DAC
Carry case
1/4" headphone adapter cable
Setup guide
Product line brochure